BASKETBALL Tournament
Upcoming tournament in Guelph on January 28, 2018
Santa Claus Parade
Special Olympics and Secure Storage will be sponsoring a float in the upcoming 2017 Barrie Santa Claus Parade. Look for fellow athletes and volunteers on the float.
Soccer Tournament
An amazing night of friendly competition and awards were handed out to many deserving athletes.
First Session
Most Valuable - Sam Windross
Most Improved -
Sportsmanship - Maryanne Lewtas
Second Session
Most Valuable -
Most Improved -
Sportsmanship -
British Invasion
Barrie Special Olympics coaches and Barrie Kiwanis banded together in music. Treats were sold and money was raised towards Barrie Special Olympics.
Golf Fundraiser
A very large donation was received from a golf tournament by Orillia Insurance Adjusters at Hawkridge Golf course in Orillia. A very big shout out to Sam and Joey who assisted in the events and were supported by coaches Dawn and Kathy.

Golf Tournament
An amazing community event supporting Special Olympics occurred at Innisbrook Golf Course on June 24, 2017.  An amazing amount of $17622.60 was collected which will support athletes going to games, purchase equipment, and fund events.  Amazing work by Carole Hartzell in conjunction with many volunteers.
Sports Clips
Special thanks to Sports Clips for fundraising money and donating it to Special Olympics.
Torch Run
Torch Run passed through Barrie where Barrie Police an Special Olympic athletes ran through the streets of Barrie to raise awareness.
Motionball - Toronto
Local athlete attended Motionball on Saturday in Toronto. A positive event which earned $300000 for Special Olympics Ontario. Sports and community at its best. 
July 13, 2017 Draw Date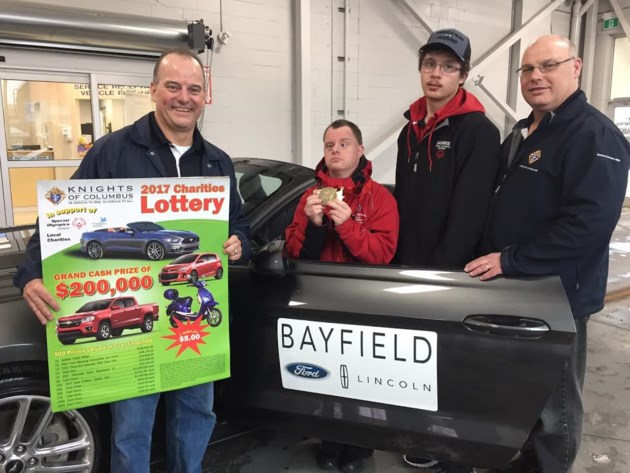 The Knights of Columbus Council 1626 previewed the 2017 Annual Charity Raffle with two local Special Olympic athletes in a sweet ride.
Sam Windross and Trevor Knight joined Knights of Columbus 1626 ticket sales coordinator Rob Burke and Grand Knight Paul Gamble at Bayfield Ford Lincoln on Thursday where they posed for a promotional photo with a brand new convertible Mustang.
A Mustang is one of several cars up for grabs in the draw along with the grand prize of $200,000.
Other smaller cash prizes are also available and tickets are $5.
A portion of the proceeds will be going to Special Olympics Ontario.  
Amazing Partners
Celebrating with Special Olympics and Barrie Police Services 30 Years of Torch Run
Chapters book signing
2017
March 25, 2017
Barrie Basketball represented our area with pride at Mary Matthews tournament.  Amazing wins and an awesome experience traveling to Vahne. Old friends and new acquaintances were made in wake of friendly competition.
March 24, 2017
Barrie Heroes win medals in Austria for the World Games

         Snowshoeing                                      Alpine Skiing                                        Alpine Skiing
        4x100m relay.                                 Intermediate Slalom                           Advanced Giant Slalom
           Silver Medal.                                    Silver Medal                                           Gold Medal
                                                           Intermediate Giant Slalom
                                                                    Bronze Medal
March 18, 2017
Snow shoes in Arrowhead Provincial Park.
March 14, 2017
Basketball (Competitive Team) - The season has come to an end.
Basketball (Recreational Group) - Practice (April 2, 2017)
                                                - Practice (April 9, 2017)
Curling, Floor Hockey, Nordic Skiing update: The season has come to an end.
10 Pin Bowling Update: Mississauga Tournament on April 11, 2017
                                    Barrie Tournament on April 23, 2017 
5 Pin Bowling Update: Toronto Tournament on May 11, 2017
Swim, Snowshoeing, Alpine: Season has come to an end.
February 27, 2017
The competitive Basketball team traveled to Peterborough on Saturday to play in a tournament.  After 3 games of exciting competition, Barrie won all of their games with a wide margin of points. The day was a day of fun and friendship.  The team will compete again on March 25, 2017. A very good time was had by all.
February 16, 2017
The Special Olympics partnered with the Knights of Columbus flag raising campaign
Pasta Social
Amazing turn out for Pasta Party last night. Great food, awesome music, and fun games were enjoyed by all. Athletes, coaches, and volunteers from the winter sports line up enjoyed each others company to Al's awesome music.
Shirt and Hoodies
Shirt and Hoody orders may be made through your coach. The cost is $25.00 for a shirt and $30.00 for a hoody. Your order must include the payment. The orders will be forwarded on to Marie Gorham.  These orders may be placed now but will not be received until after Christmas.  Shirt and hoodies are black and range from xsmall to Xxx large. The shirt have the Special Olympics logo on them. The advantages are each sport can travel with an recognisable shirt. Some Barrie teams don't currently have a uniform and this would serve as a team shirt. 
Sponsors were honoured at the Westside Church from 7 - 8:30 pm on December 1, 2016.  Athletes provided amazing friendship opportunities and awesome snacks were enjoyed by all.  An amazing check was presented for $6700.00 from the Ontario Insurance Adjusters Organization of Georgian Bay to Special Olympics.  Sam Windross, athlete's representative, accepted the cheque with pride.
Curling Announcement
The Curling club attended a Bonspiel in Orillia, Ontario, on November 26, 2016.  The team received a second place finish and made their community proud.
Annual General Meeting
The Annual General Meeting occurred at the Bayfield Mall on Monday November 21, 2016.  This is an introduction to the council for 2017.
Executive
Dawn Windross - Community Coordinator
Theo Bosch       - Secretary
Sue Gallagher   - Treasurer
Paul Windross   - Human Relations
Marie Gorham   - Registrar
Head Coach
Jan Jeffreys        - Curling Head Coach
Theo Bosch.      - Track and Field Head Coach, Floor Hockey Head Coach
Mike Blair          -  Alpine Skiing Head Coach
Lynn Wilson       - Bocce Head Coach
Kathy Pyke         - Soccer Head Coach, Snow Shoeing Head Coach

Terry Olaskey     - Basketball Head Coach
Marie Gorham     - 5 pin Bowling Head Coach, 10 pin Bowling Head Coach
Andrea Rogers    - Swimming Head Coach
Bill Lazaros          - Baseball Head Coach
Cathy McCarroll   - Nordic Head Coach
Carole Hartwell    - Golf Head Coach
Athlete Representative
Mike Wimbs         - Athlete Representative
Kyle Shuttleworth - Athlete Representative
Adam Ferguson    - Athlete Representative
Sam Windross       - Athlete Representative
Annual Volunteer Recognition 
& Awards Banquet 2016
Congratulations to the award winners, 
and great THANKS to our volunteers!
check out more photos at facebook:
Special Olympics Ontario/Barrie/Region 6
SOO-Barrie was pleased to recognize this year's award winners at the annual banquet on November 6, 2016. 
Athletes of the Year: 
Nick Cummingham and Annabel St. Louis
Most Improved Athletes of the Year:
Charlie Descharette and Alexandra Eckerman
Dale Campbell Memorial Award: 
Individual  Sports Awards:
Basketball - Rayelle Cascanette
10Pin Bowling - Melissa Spense
Alpine Skiing - Sam Windross
Snow Shoeing - Siobhan Kewin
Bocce - Matthew Brennan
Curling - Maryann Lewtas
Floor Hockey - Bradley Sibbick
Golf - Kyle Zank
Soccer - Chris Ironside
Softball - Bill Price
Swimming - Kendal Serre
Track and Field - Austin Hartson
Nordic Skiing -Tabitha Wilson
Volunteer of the Year:
Congratulations to all award winners!
2016 Regional games  - Kinkardin, Ontario
2017 Provincial games - Peel Region, Ontario, will be held this July 13 - 16, 2017.

2018 National games   - Nova Scotia
2019 World games       - Abu Dhabi, United Arab Emirates
Good luck to athletes competing in track and field and baseball in Peel Region.
SPECIAL OLYMPICS ONTARIO SPRING GAMES UPDATE
2015 - Regional Games  - Guelph, Ontario
2016 - Provincial Games - Guelph, Ontario
2018 - National Games   - Nova Scotia
2019 - World Games       - Abu Dhabi, United Arab Emirates
Good luck to athletes competing in swimming and bowling in Nova Scotia.
One athlete competed for Guelph in basketball and won a silver metal. Will not advance.
SPECIAL OLYMPICS ONTARIO WINTER GAMES UPDATE
2018 - Regional Games  -
2019 - Provincial Games -
2020 - National Games   -
2021 - World Games       -
Good luck to athletes competing in Alpine Skiing and Snow Shoeing in Austria.
Was a great success, with memories to last a lifetime by all.